How Alcohol Affects Weight Loss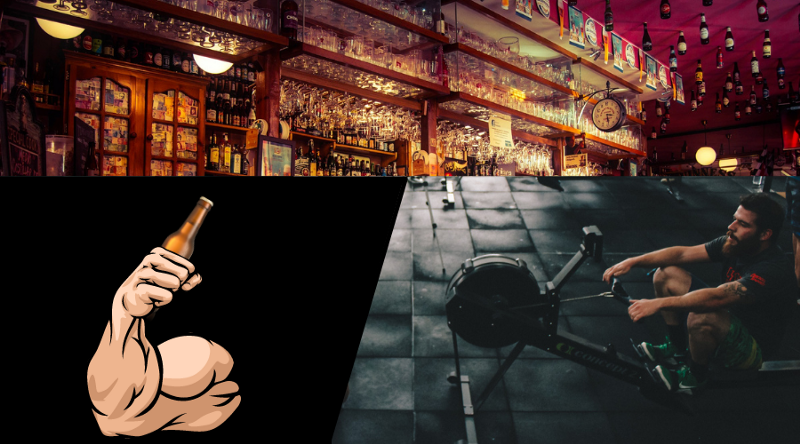 It has been a long, long time since Americans last attempted the prohibition of alcohol in the United States. The ban was unpopular for many reasons, and the prohibition period effectively ended in 1933 with the ratification of the 21st Amendment, mostly because it was simply too difficult to keep people away from alcohol. It also cost a lot of money to enforce the prohibition, and it was ultimately deemed not worth enforcing in the long run. Everyone likes their alcohol, plainly.
The NIH recently reported that up to 85% of adults 18 years and older have at least tried alcohol in their lifetime, while around 50% state that they have drunk alcohol in the last month. These numbers are not likely to decrease soon, if we had to be honest. But for those who are looking to exercise and lose weight, there are benefits to limit alcohol consumption that you should consider if fitness is your long-term goal.
Of interesting note, there seems to be a correlation between higher fitness levels and higher alcohol consumption in both men and women. The more you exercise, the more likely you are to consume alcohol regularly. This is often because of these athletes substituting expenditure in calories lost with the filling sensation alcohol provides — alcoholic beverages contain calories after all. Does this negatively hamper your progress in weight loss? Not necessarily in those new to the journey.
Men and women in their first year of weight loss and life-changing intervention (I.E. eating healthier, exercising regularly, adopting better habits, etc.) do not have a negative effect on their progress when they are consuming alcohol. The benefits of other lifestyle changes brought on by the goal of weight loss is often enough to supersede the drawback of caloric intake via alcohol consumption.
The story however is a little different when progressing into year four of fitness, however, when the body becomes acclimated to your other lifestyle changes. Those who have abstained from alcohol are expected to have greater weight loss results compared to consistently heavy-drinkers, their weight loss almost twice that of those who consume alcohol regularly after year one of their fitness journey.
Does alcohol affect fitness? It depends on your goals. Alcohol contains various forms of sugars that need to be factored into your micronutrient intake when consumed. Different beverages contain different levels of sugars that measure out to different caloric levels. Cocktails with mixtures are expected to contain much more caloric content than lighter options, such as whiskies or seltzers. Every athlete has their own caloric intake requirements that they need to measure out to their specific needs (this calculator is highly recommended for a general sense of your daily caloric needs)
Like everything else, moderation appears to be key. Those who control their alcohol intake can still enjoy the benefits of improved fitness and weight loss once they're past their first year into exercise, long after their initial 'newbie gains'. And in aspiring athletes, alcohol is one of those types of beverages that will have to be considered in your meal routine to avoid accidental excess that can bottleneck your progress toward the ideal physique.
---
References
Chao, A.M., Wadden, T.A., Tronieri, J.S., and Berkowitz, R.I. (2019) Alcohol Intake and Weight Loss during an Intensive Lifestyle Intervention for Adults with Overweight/Obesity and Diabetes. Obesity (Silver Spring) 27(1): 30-40. doi: 10.1002/oby.22316Alcohol Facts and Statistics (2022) National Institute on Alcohol Abuse and Alcoholism. Retrieved from https://www.niaaa.nih.gov/publications/brochures-and-fact-sheets/alcohol-facts-and-statistics
Shuval, K., Finley, C.E., Chartier, K.G., Balasubramanian, B., Gabriel, K.P., and Barlow, C.E. (2012). Cardiorespiratory fitness, alcohol intake, and metabolic syndrome incidence in men. Med Sci Sports Exerc 44(11): 2125-2131. doi: 10.1249/MSS.0b013e3182640c4eShuval, K., Leonard, D., Chartier, K.G., Barlow, C.E., Fennis, B.M., Katz, D.L., Abel, K., Farrell, S.W., Pavlovic, A., Defina, L.F. (2022). Med Sci Sports Exerc 54(1): 113-119. doi: 10.1249/MSS.0000000000002777
Comments
Sign In or Become a Subscriber to Comment.

Penman Ventures Newsletter
Join the newsletter to receive the latest updates in your inbox.